Gabriel and Margaret Pelaggi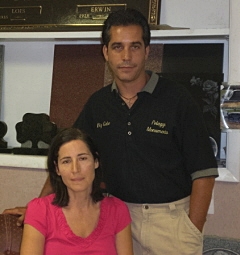 FIVE GENERATIONS OF STONE CRAFTSMANSHIP
We Proudly Serve all Faiths

Here at Gabriel Pelaggi Monuments Inc. we are dedicated to giving you the highest quality stone material and a wide variety of monument sizes, shapes, and colors. We also produce the finest quality stone carvings, stone etchings, and bronze plaques. The art work that we can incorporate into your monument is limited only by the imagination. Our dedication and quality of service to our customers is unmatched by anyone in our field. Here at Gabriel Pelaggi Monuments Inc. each and every monument is designed and sandblasted directly by the owner Gabriel because he wants every memorial to be perfect. We will be happy to assist you in selecting, and designing a beautiful monument for your loved one because we understand that creating just the right monument for a loved one who has passed away can be a very stressful and emotional experience. Please contact us to set up an appointment in either of our two convenient locations. We have one location in Dover, NJ and another in East Hanover, NJ.
ATTENTION TO ALL CUSTOMERS
COVID-19 ANNOUNCEMENT
We have outdoor displays and can conduct business outside as an option.
We are also offering a discount to families affected by COVID-19.
We accept all major credit cards