Custom Built Private Mausoleums

A mausoleum is an external free-standing building constructed as a monument enclosing the interment space or burial chamber of a deceased person or people. A monument without the interment is a cenotaph. A mausoleum may be considered a type of tomb, or the tomb may be considered to be within the mausoleum. A Christian mausoleum sometimes includes a chapel. While communal mausoleums serve the public, private mausoleums offer an environment for secluded and deeply intimate reflection. Private mausoleums have been constructed throughout history for individuals who have achieved unparalleled success, for prominent families, and other notable persons, including state leaders, intellectuals, celebrities, and fallen heroes. Construction of a private mausoleum is inherently personal, made possible by a flexible and customized process. A chief benefit of private mausoleums is the potential for customization. Mausoleum design options are extensive and include open-air construction, modern and contemporary design features, or more traditional appointments. A private mausoleum reflects the personality, faith, and individual preferences of the person or family interred for eternity.
Examples of Private Mausoleums
Pelaggi Monuments constructing a private mausoleum.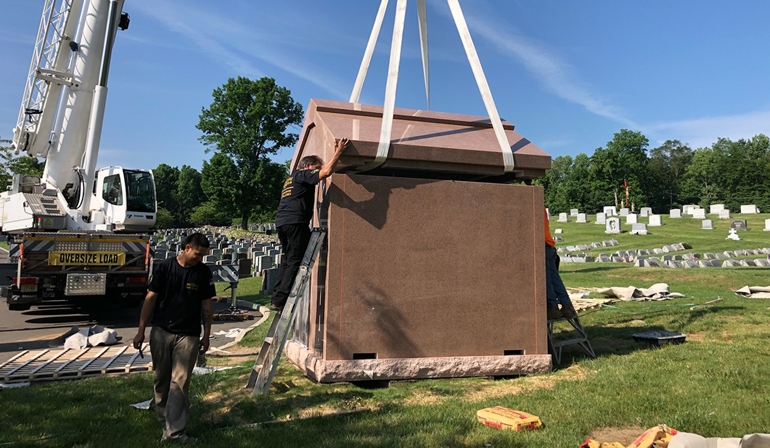 History of Mausoleums
The word derives from the Mausoleum at Halicarnassus (near modern-day Bodrum in Turkey), the grave of King Mausolus, the Persian satrap of Caria, whose large tomb was one of the Seven Wonders of the Ancient World. Historically, mausolea were, and still may be, large and impressive constructions for a deceased leader or other person of importance. However, smaller mausolea soon became popular with the gentry and nobility in many countries. In the Roman Empire, these were often ranged in necropoles or along roadsides: the via Appia Antica retains the ruins of many private mausolea for miles outside Rome. However, when Christianity became dominant, mausoleums were out of use. Later, mausolea became particularly popular in Europe and its colonies during the early modern and modern periods.