Here are some Testimonials from our Customers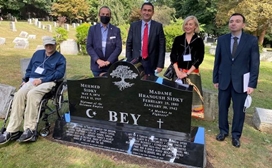 Gabe, I want to thank you for everything you've done with the Bey stone. It is a beautiful piece of work. I don't think we could ask for anything more. The picture has the Turkish Consul General, Vice Consul and Gene Pantalone, author of the book about Madame Bey's boxing camp.



Gabe and Margaret,
That looks fantastic! Thank you very much. It was a pleasure doing business with you! I have nothing but good things to say about your services. I will recommend your business.

Thank's,
Bill Mruk

Dear Gabe and Margaret,
There are no words to tell you how magnificent your work is and how pleased and touched we were upon viewing Mark's headstone for the first time. Simply put it is more beautiful than we could have imagined. The highest compliment can give you is from our son Peter and his wife Christine. They both agreed that Mark would have loved it. We find peace at the grave, seeing Mark's smiling face and knowing he will be remembered for eternity as he was in life. Thank you for your patience, understanding, and all your help during our first moments of grief and also your expert work.
Warm regards,
Bob and Cathy Relovsky, Hackettstown,NJ
Dear Gabe and Margaret,
You were wonderful to work with and your special talent with my design turned out perfectly. Thank you for your help with a difficult task. I am so very pleased with the outcome.
Sincerely,
Barbara Brinkman
Dear Gabe and Margaret,
I want to thank you all from the bottom of my heart for the beautiful job you did on my husband's monument. I want to especially thank you for going out of your way to help me design the monument. At all times, all of you were pleasant, cooperative, and honorable. You don't find that to much in today's world. Believe me I will go out of my way to recommend your company and your family. I have heard (and seen) horror stories from people who have dealt with other monument companies. you were wonderful, and I felt at home working with all of you at this saddest time in my life.
Sincerely,
B. Pagani N. Caldwell, NJ
Thank you so very much. You made me cry. What a beautiful stone you made for us. I will forever use and refer your services. Again it was your wonderful personality from back in 1998 that brought me back to using you for this monument. Please send my thanks to your husband. Respectfully Lori Mazzarella and Greg



Hello Margaret and Gabriel,


It has been over a month since we laid my brother to rest. Life was hectic before and then got hectic after. I apologize for not writing sooner to thank you for your work at East Hanover Cemetery. You and Scott Lutz (and Father Matthew) made the sad occasion one in which we shared many happy family memories. I know you were under a tight schedule but you did it! On behalf of the Nason family I thank you very much.

Stay well, Diane Nason
Mr. Pelaggi,

Just a note to let you know the stone you erected for my husband at Pleasant Hill cemetery turned out to be more than expected. I love the black stone and what you helped me choose - the roses, the saying, and the printing came out just beautiful. I am very pleased with the excellent outcome, you do fine work and I would recommend you to anyone. You are a master. Thank you again for your help in making this a little easier to handle.
D. Paige Flanders, NJ
Gabe and Margaret,
I can't thank you enough for your extraordinary effort in erecting the headstone for Virginia Frantz in advance of her memorial service on Saturday, July 20. Thank you, Thank you, Thank you. The stone was perfect in every way and it was a blessing to have it in place for the service. Even Gate of Heaven was impressed with the timing!
We will be sending the remainder of the fee immediately.
Linda Weinstein
Margaret,
I wanted to take a moment to thank you for all of your help during this time. I'm touched the monument was able to be completed earlier than anticipated and in time for the 1 year mark! The monument looks terrific and is everything we pictured. The image you emailed me was also wonderful to receive. Truly great service all around and working with you made this process so much easier. My Mom is also pleased, so I'm grateful we could all agree on something so perfect to commemorate my dad. Feel free to contact with anything in the future. The remaining balance will be on the way shortly. Once again my sincerest gratitude for all of the assistance that went into this creation. Thank you from the bottom of my heart.
Jennifer Sweeney
Margaret,
I don't know how to thank you guys enough. Honestly, you guys make such a difficult time easier. God truly puts people like you and Gabe into the lives of others to affect them positively during a negative period. God bless and enjoy the weekend.

Thank you again!
Michele E. Shaffer
Dear Margaret and Gabe,
I wanted to thank you both so much for your kindness and help. Margaret you are always so efficient, helpful, and understanding. Gabe your workmanship is excellent. you take pride in what you do and it shows. I can't say enough of how pleased our family is on all the work you have done on our family mausoleum! It's beautiful - my parents would be proud!

Fondly,
Mary Ann Ayars
Margaret,
I want to thank you and you husband so very much for the BEAUTIFUL stone that you created for my sister Patty. It is befitting her so well..... personal, displaying her character and her love of animals. She would be as happy as I am with it. The dog and the cat are fabulous. Once the cemetery places it on It's base, I will send a picture to my sister who lives in NC who will be just as pleased. Words could never adequately express my gratitude to you for the beautifully dignified work that you do for our loved ones. your compassion is only surpassed by professionalism. From the bottom of my heart Margaret, THANK YOU for your integrity and for taking such pride in a remembrance of those who have gone before us.
Sue
Good morning Gabe,
I just called Margaret, but I wanted to drop you a note as well. First and foremost, THANK YOU! Thank you for making my Dad's headstone so beautiful, thank you for getting it in so quickly, and thank you for giving my mom peace of mind before she leaves. I cannot tell you how happy that made her. She felt like she was "unknown" without a stone. I know you explained to her how long it normally takes and that you'd try to get it done sooner, but that was all she could hang on to. She feels so much better, I can't tell you. And aside from that - it's absolutely beautiful. Honestly, we could not have for more. She went right home last night and wrote out the check, and I am mailing it today. Thank you again for everything.
Sincerely,
Michele E. Shaffer
Pelaggi Family,
Our family would like to express our sincere thank's for your concern and understanding in getting the stone placed before Easter. We are so pleased with the quality and workmanship you put into the design...
It is beautiful.
T. Franco and Family NJ
Dear Gabriel and Margaret,
We would just like to say what a beautiful job you did on our headstone. Thank you for having it done when you said you would. We heard of a lot of horror stories from other with other places. you are true business.
Thank you again,
Dottie and Bill Whittenbarger
Dear Margaret,
Before it gets to late and I forget, I wanted to thank you and your husband for the work you did to make my wife's headstone the nicest one in Saint Teresa's cemetery. I'm glad I chose you and your husband to do the work.
Thank you,
Bill Murphy
From the team at Pelaggi Monuments
We would like to thank all of our customers for their thoughts and kind words about our work. As always we will continue to do our very best to make sure our customers are completely satisfied with our work from the monument design through the placement.

Thank you all again,
From all of us at Pelaggi Monuments.